Hey all,
Thanks to Kaitlyn Leann Sanchez and Ciara O'Neal for doing the work to make this contest happen for the kid lit community. I'm just flinging this literary frisbee out there. Just had to use any spring-related GIF and write a story under 150 words. Piece of pollen! You can see more entries at Ciara's site. Here's mine at 113 words: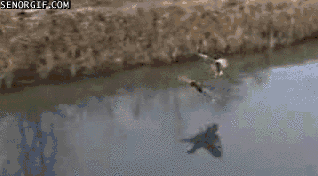 ARRIVING IN STYLE
by Maureen L. Egan
If I dawdle and waddle
outside when I see you
cracking a few quacks on cue,
I can snatch your stale bread,
but you've been sorely misled.
I am not so ill-bred.
Rather, I contain a multitude
of prime poultry pulchritude—
I'm actually a model.
Give me some room,
watch me take flight.
Sure wings are a sight
but my feet are my pride–
webbed and wide,
slip and slide
If you like unexpected grace
beneath a comical face,
you're in luck!
DUCK!
Watch where you're standing…
coming in for a landing!
The river's my runway
for Broadway-worthy ballet.
My knack deserves a plaque–
orange is the new black.
That's how you zoom!